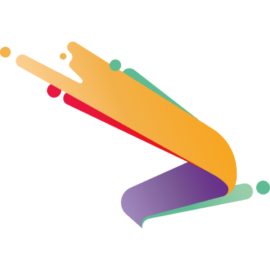 World Dwarf Games 2023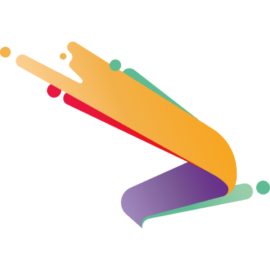 https://wdg2023.com/
Cologne in Germany
Fri 28th July to Saturday 5th August
This is information that we hope will make booking and preparing for the World Games easier for the Great Britain team. If you have questions that this information does not answer please contact the DSAuk office.
Flights
There are two airports that we would recommend using, Dusseldorf which is about 40km from Cologne and Cologne/Bonn airport which is about 15km from Cologne.
The flight takes around 1 hour 30 minutes
They are both about 30 – 40 minutes from the hotels by public transport. From Cologne airport you can catch the tram (tram No 19 and then tram No 13) to get to the hotels, and from Dusseldorf you'll need to get a train followed by the Cologne trams.
The taxi fayre from Cologne airport to the hotels is around 50 Euros
Taxi's
The taxi from the Cologne airport is around 50 euros
A taxi from the Ameron or B&B koln hotels to the university will be around 12 Euro's
Hotel B&B Koln – City
We think because of its size, costs and facilities that this would be the best hotel for the GB team to be based
There are two hotels that we would consider for the GB team the one we think most of you will want to use is the B&B koln-City.
It has 200 rooms and is brand new so very clean and comfortable. It is a lot like a Holiday Inn type hotel.
The cost is likely to be around 125 euros per room per night.
There are rooms for two people, three people or 4 people. The 4 people rooms have built in bunk beds which are substantial.
There are 5 large wheelchair accessible rooms that have excellent space and accessible bathrooms.
All the rooms have an easily accessible shower there are no baths.
There is a continental breakfast served which is good.
There are vending machines and you are allowed to bring take away food or beverages into the hotel.
There is a supermarket nearby.
There are no kettles or irons in the rooms.
There is parking on site but there is a charge of 10 Euros per night. There is parking on the street which is charged at 8 euros per day.
The walk to the Tram is approximately 400m. The world games organisers are planning on putting some transport on between this hotel and the tram stop to help those that need it.
There is a good Italian Restaurant close to the hotel.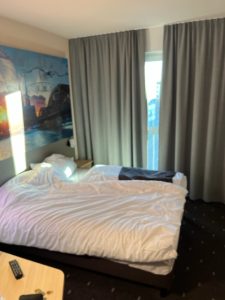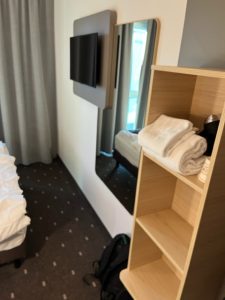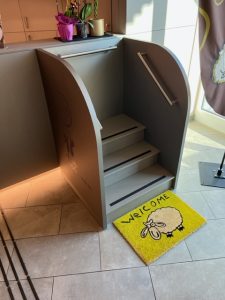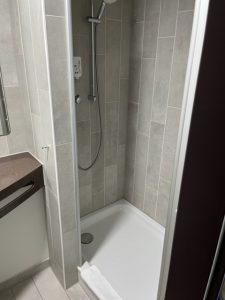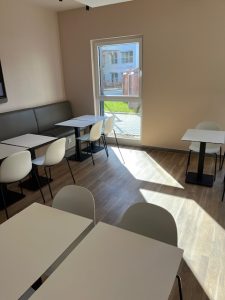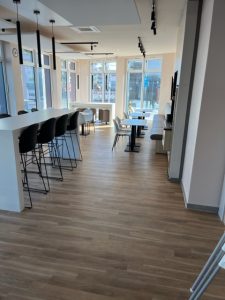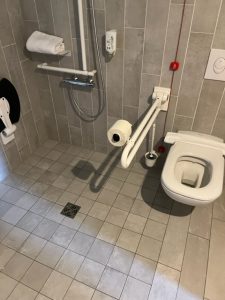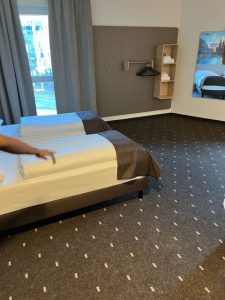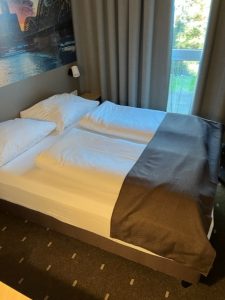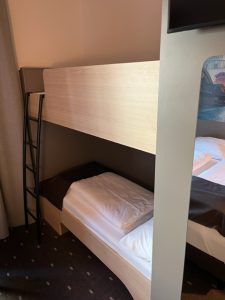 Hotel Ameron
The Ameron Hotel is a little bit closer to the tram than the B&B koln.
It has 100 rooms.
It only has rooms for 2 people. There are a few rooms with a connecting door but then you would be paying for two rooms for each night.
The Ameron will be approximately 130 to 145 Euros per night.
There will be Breakfast inc which again will be continental .
There is no kettle in the room.
The Ameron has 2 wheelchair accessible rooms
It is a bit posher than the B&B koln but it is more expensive and the rooms only house 2 people.
The buttons in the lifts are quite high up so this hotel is more difficult to negotiate than the B&B koln.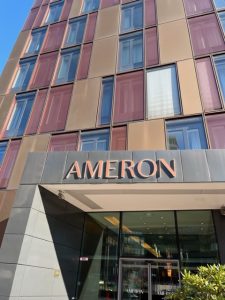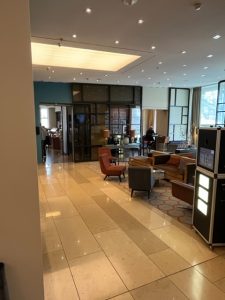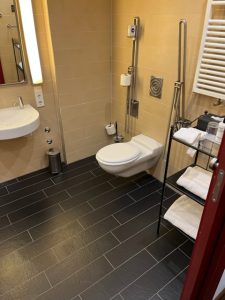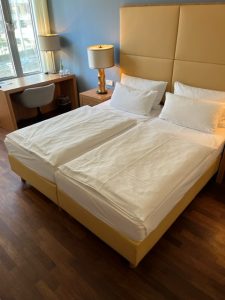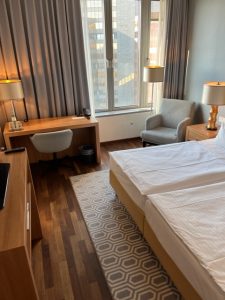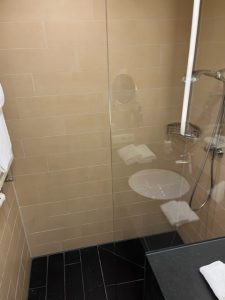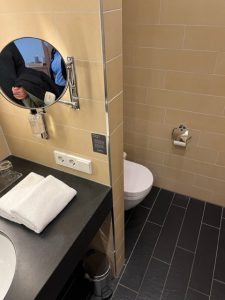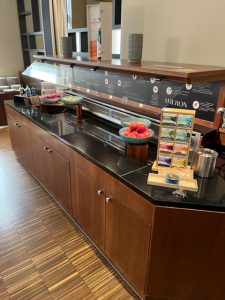 Trams
The tram system is very good in Cologne
There is a KVB app that helps you to buy tickets and also tickets can be bought using cash on the tram itself.
At this point we don't know if we will be paying for trams or a free travel card will be issued to everyone. We will keep you informed on this as we learn more.
Google maps is very useful as by searching for your destination and selecting public transport it will tell you the tram number and times making finding your way around Cologne easy.
The tram from the hotels to the University is tram No1 and takes literally just 5 minutes. Getting to and from the hotels to the University is easy the Platforms are on same level as the Trams.
The walk from the B&B koln to the tram is about 20mins for a person with dwarfism.
The Trams into Cologne do involve some steps as some of the platforms are lower than the trams so if using a wheelchair the wheelchair accessible trams need to be used. If travelling into Cologne city centre some assistance might be needed for a wheelchair user.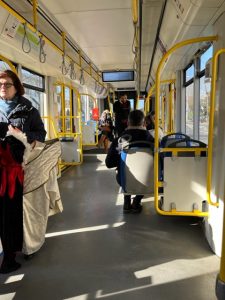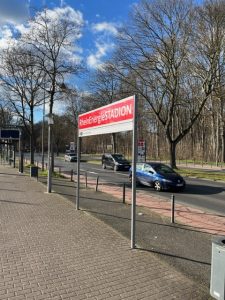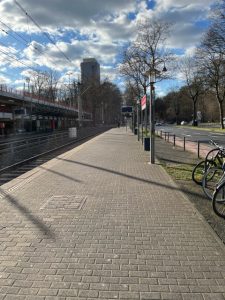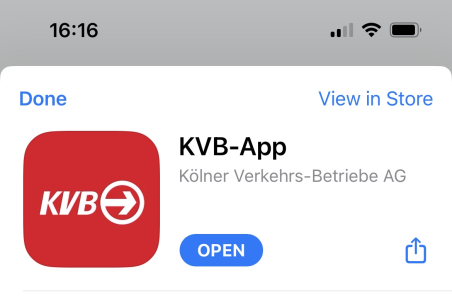 Using your Car
If you plan on using your car the parking at the hotels is charged per night (10 euros)
There is parking on the streets at 8 euros per night.
There is some free parking at the university but it is limited once it is full there is some overspill parking but it is charged for.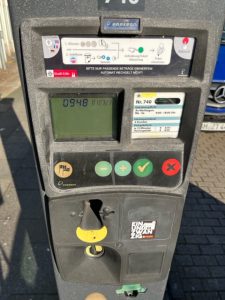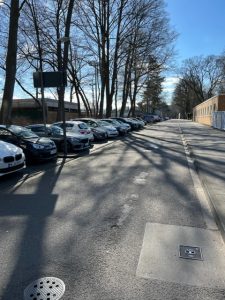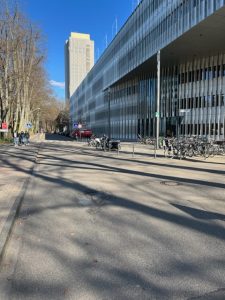 Venues
All the venues are on the University site.
The track and field venue is a stadium with plenty of spectator seating and a proper throws infield similar to what we use at the DSA Games.
The swimming pool is 25m and on site
The Gymnasiums are very large and most of the events from Boccia and Badminton to Volleyball and Basketball will be held in those gymnasiums. There is plenty of spectator seating above the gyms looking down into them. This seating is only accessible by steps, members who use a wheelchair can spectate from the side of the gyms.
The venues are good quality and are clean and well kept.
Once at the University everything is very level and in a compact area so its easy to find your way around.
In general Cologne is very flat which makes access good.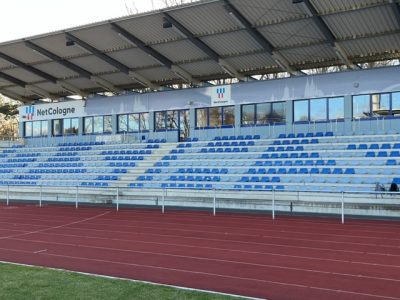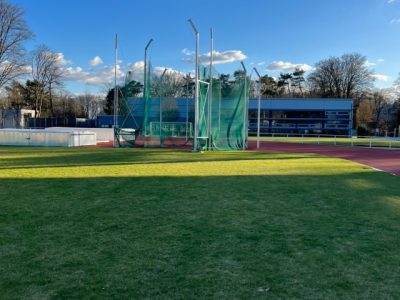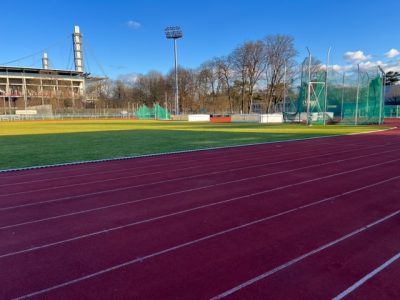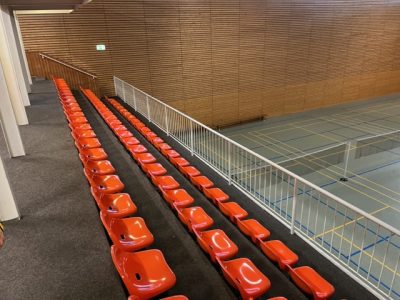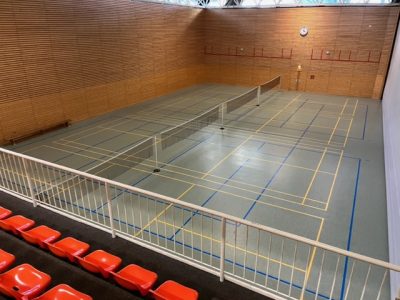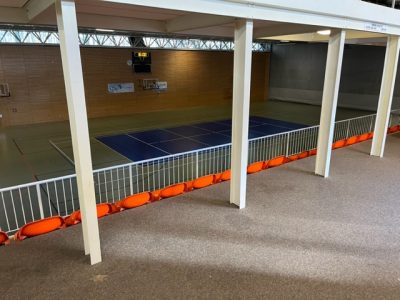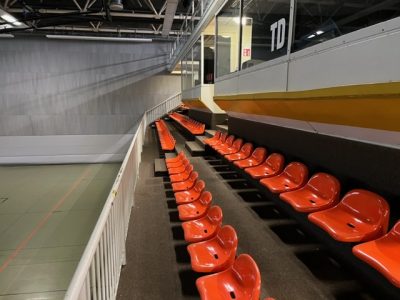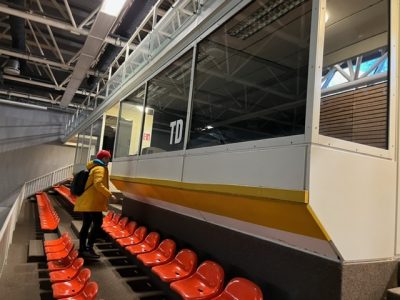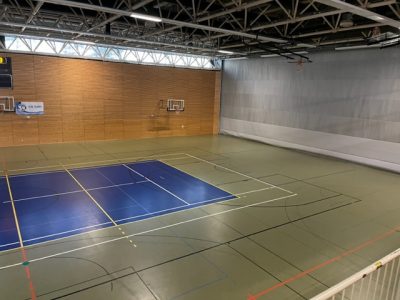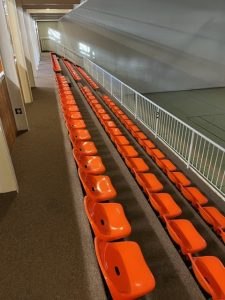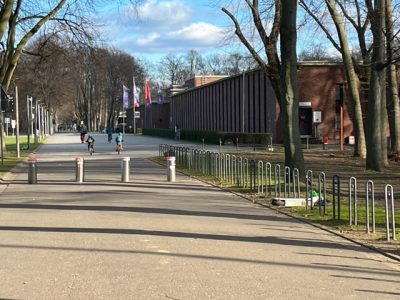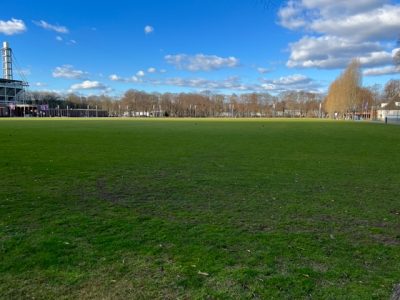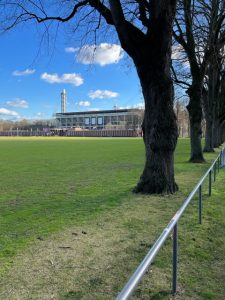 Food
We have been told that Breakfast is included in the hotel room price.
Lunch will be served at the University in the Cafeteria. It is included in the registration fee for athletes or supporters and non-participants.
Evening meals are your own responsibility to organise. The organisers are planning on something to help the access to food in the evening more to follow on that later once it is set in place.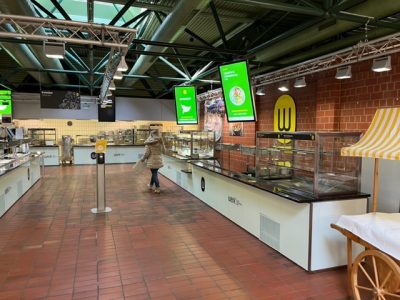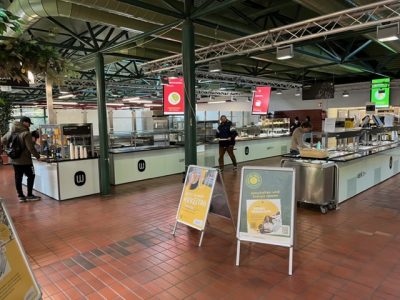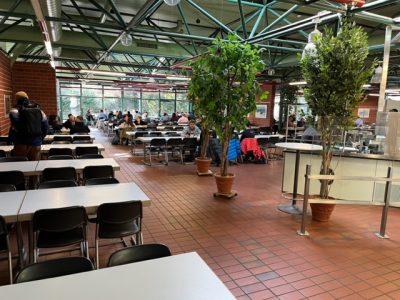 World Games Classification
If you can take your measurements for the world games class and fill that in on the entry forms that will help but it is not necessary as every athlete will have to present for classification on Fri 28th July or Saturday 29th
If you can remember your classification from Canada then you can put that on your entry form too. It will help the organisers to know that.
If you didn't go to Canada or this is your first World Games don't worry class will be checked at the games itself.
We believe the classification team will be based at the Athletics stadium and it is important that every athlete of all ages is measured and classified at the start of the games.
Your world games class my not be the same as your DSA class. If you need any help with this you can contact the DSA office.
ENTRY FORMS
We believe the entry forms will be out by 13th March
They will be done online
You will book your hotel rooms using the entry forms
The entry fee will be 100 euros (this includes your lunch)
The fee for a supporter or non-participant will be 50 euros (this includes your lunch)
Once you have entered the World Games please let Tim know you have entered and let him have a copy of your entry forms.
Be careful to fill the forms in correctly it will be difficult to change anything after you have submitted your form.
The Gala Dinner will cost 25 Euros per head
Other points of emphasis include:
Athletes must compete in their age division for individual sports.
Your age as of July 28th, 2023, the start of the games, is what determines what age division you belong in.
There will be an open and masters division in boccia. If you are in the age range for masters, 35+, you must compete in that division.
There will be an open and masters division in all individual sports (e.g table tennis, badminton, swimming etc). If you are in the age range for masters, 35+, you must compete in that division.
Team sports can have a choice between juniors, open and masters. You can't play for an open team and a junior team, it's either one or the other.
For the sports of Track and Field and Swimming, athletes will be limited to four individual sports, not including relays. Track and Field events are combined in the total of four. Example: 60m, 100m, Javelin, Discuss. Any combination of Track events and field events adding up to four.