F40 Field Athletes achieve PB's in Beijing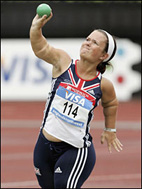 DAA and GB team throwers Kim Minett and Sophie Hancock threw over the weekend and on Monday morning in the Birds Nest Stadium in Beijing.
They both did well against increasingly stiff competition in the F40 class.
Sophie threw Discus on Saturday and came in 5th place, she threw a personal best of 21.53, the Gold going to the Chinese with a new World Record.
Kim Minett and Sophie Hancock both threw in the Shot Put on Monday and once again Sophie threw a personal best and took the 5th place throwing a life time best of 7m 48cm. This is also a new European Record.
Kim threw a 6.92 which gave her the 7th place, again the event was won with a new World record and went to Tunisia.
Both Sophie and Kim threw well Sophie throwing PB's and Kim throwing close to her PB, we are proud of you both WELL DONE!