GWR™ Individual Record – Fold and Throw 3 Paper Planes
The record attempt has now closed but please continue reading to hear how DSAuk members got on and see what they had to do in the challenge.
There are two different records for you to attempt as an individual. This one is a skills challenge and the other is a physical challenge. They are:
Fastest time to fold and throw three paper aircraft (skills challenge)
Most star jumps in 30 seconds (physical challenge). Click HERE for the Star Jumps record page.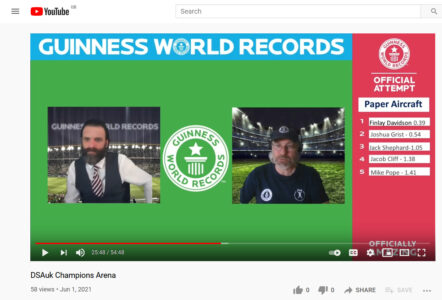 After a great weekend of attempts, this is what the leaderboard looked like, with Finlay Davidson going through to the Champions Arena show for the official record attempt.
You can watch the full Champions Arena show HERE
And here's what everyone had to do to earn a place on the leaderboard.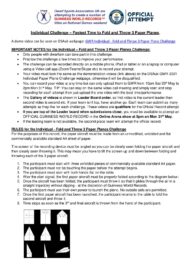 Individual Challenge - Fold and Throw 3 Paper Planes v2
PDF | 214 KB size
Download
Click on the thumbnail image to view the PDF, or click Download to save it to your device.
PLEASE READ THE RULES BELOW for the Fold and Throw 3 Paper Planes Individual Challenge
For the purposes of this record, the paper aircraft must be made from an unmodified, unfolded and flat, commercially available, standard A4 sheet of paper.
The screen of the recording device must be angled so you can be clearly seen folding the paper aircraft and then clearly seen throwing it. This may mean you have to tilt the screen up and down between folding and throwing each of the 3 paper aircraft.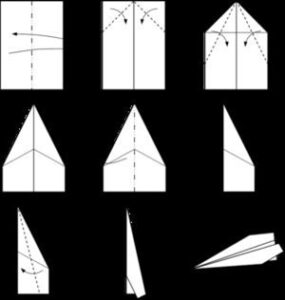 The participant must start with three unfolded pieces of commercially available standard A4 paper.
The participant must not be touching the paper before the attempt begins.
The participant must start with both hands flat on the table.
After the start signal, the first paper aircraft must be properly folded according to the diagram on the right:
Once the aircraft has been folded, the participant must throw it so that it glides through the air in a straight trajectory without dipping – at the discretion of Guinness World Records.
The participant must use their own power to launch the plane. No outside aids are permitted.
Once the first paper aircraft has been launched, the participant returns to the table to fold the second aircraft and throw it.
Time stops as soon as the 3rd and final aircraft is thrown from the hand of the participant.
Leader Board – Gallery of Submissions
See the other GUINNESS WORLD RECORDS Challenges for Individuals, Teams of 2 and Teams of 4 by clicking on the titles below:
Individual Challenge for the Most Star Jumps in 30 seconds
Team of 2 Challenge for the Fastest Time to complete a 10-Step Heel to Toe Video Relay
Team of 2 Challenge for the Most Coin Tosses into a Cup in 30 seconds
Team of 4 Challenge for the Fastest Time to complete a 16 Jumping Jack Video Relay
Tennis Ball Video Chain Challenge for the Longest Video Chain to Catch and Pass a Tennis Ball