GWR™ Longest Video Chain Record – Tennis Ball Catch and Pass
Video submissions for the Tennis Ball Catch and Pass record have now closed but carry on reading down the page to see how DSAuk members, family and friends have been helping us to attempt this record.
We are attempting the record for the Largest online video chain of people catching and passing a tennis ball
When you've read the instructions, filmed and submitted your video, please carry on scrolling down the page to find out about more exciting GUINNESS WORLD RECORDS Individuals and Teams of 2 Challenges and to see the tennis ball gallery of videos.
We want everyone to join in with this record. To do this just get someone to film you catching and throwing a tennis ball. Sounds easy right? It is easy but here are some of the VERY important rules to follow so please read carefully –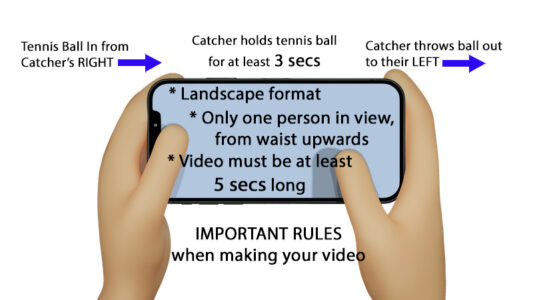 All videos must be filmed in landscape and show ONLY one challenger from the waist upwards.
The challenger must catch the tennis ball from their right, hold the ball for a minimum of 3 seconds and then throw the ball towards their left.
Each video must last a minimum of 5 seconds.
Check out the example videos below. IS YOURS THE SAME?
Our Patron, Ellie Simmonds, shows you how
Elis from Scotland has done his
See the other GUINNESS WORLD RECORDS Challenges for Individuals, Teams of 2 and Teams of 4 by clicking on the titles below:
Individual Challenge for the Fastest time to Fold and Throw 3 Paper Planes
Individual Challenge for the Most Star Jumps in 30 seconds
Team of 2 Challenge for the Fastest Time to complete a 10-Step Heel to Toe Video Relay
Team of 2 Challenge for the Most Coin Tosses into a Cup in 30 seconds
Team of 4 Challenge for the Fastest Time to complete a 16 Jumping Jack Video Relay