History of the DSAuk
In 1993, Arthur Dean, a person with a dwarf condition, took his daughter Nichola, who is a person with dwarfism, to Chicago to take part in the 1st World Dwarf Games. These games were hosted by the DAAA (Dwarf Athletic Association of America). Nichola being a particularly good swimmer came back with medals to her credit. Arthur and his daughter attended this event with four other dwarf athletes and their families and between them they returned with 26 medals in total.
On their return to this country Arthur discussed with the families the possibility of setting up an athletic association for dwarfs in the UK. What they witnessed whilst in Chicago was something they had not come across before and they wanted others to experience it too. They saw for the first time that people with dwarfism could compete in sport on an equal level. In doing so their self-esteem was lifted and the people taking part gained a great sense of achievement. This idea was very well received and in October 1993 at the RGA convention the Dwarf Athletic Association UK was formed. It was registered as a Charity in the name of the Dwarf Athletics Association UK the following year and the DAAUK had a committee.
Fatima Whitbread kindly agreed to be the Patron for the Association at that time. The Association now has two Patrons, the Paralympic Swimmer Ellie Simmonds O.B.E and ex Paralympic swimmer Matt Whorwood, who both started their swimming careers with the DAAUK.
In 1995 the Association invited people from overseas to take part in the UK's first International event as a prequel to hosting the 2nd World Dwarf Games in 1997. Ten Countries from around the world attended this event.
From these humble beginnings the Association has grown from strength to strength hosting a National Dwarf Games each year where athletes from 2 to 70+ years old take part.  Each year the number of people participating at the National Open Games has increased greatly and every year records are broken and personal bests attained. The National Games are now IPC sanctioned, meaning, athletes are competing for world ranking positions and qualifying for European and World events as well as the Paralympics. There are many up and coming athletes within the DSAuk.
The DSAuk National Games is a three-day event with athletics, swimming, football, powerlifting, basketball, hockey, table tennis, cycling, new age curling, rifle shooting and badminton. Due to the increase in numbers of participants, some of the more popular events have been given their own National Event Status at different times of the yearly calendar. These events being Badminton, Boccia and a leisure activity day Sailing/Canoeing.
Onwards and upwards
In 2001, a team of 102 people, 58 of whom were dwarf athletes, travelled to Toronto, Canada to take part in the 3rd World Dwarf Games, again hosted by the DAAA. At these Games, the athletes were able to defend or even beat their records set at previous games. The UK team competed with other athletes from 10 different countries around the world. The competition was hard and very well fought.
Every four years The World Dwarf Games is hosted by a different country who must bid for and follow a procedure to host the event. At each World Dwarf Games, GB have been represented by a strong team. Other countries who have hosted the games or are scheduled to host future games are: –
4th World Games – France, Rambouillet 2005
5th World Games – Northern Ireland, Belfast 2009
6th World Games – USA, Michigan 2013
7th World Games – Canada, Guelph, 2017
8th World Games – will be held in Germany 2023.
9th World Games – will be held in Australia 2027.
At each of these World events the times, distances, point scores and records are set and recorded.
The DSAuk had four of its members compete in the 2012 Paralympics in London. The 2012 Paralympics saw the largest number of dwarf athletes ever competing at a paralympic games, again showing the world that we are both serious and capable athletes.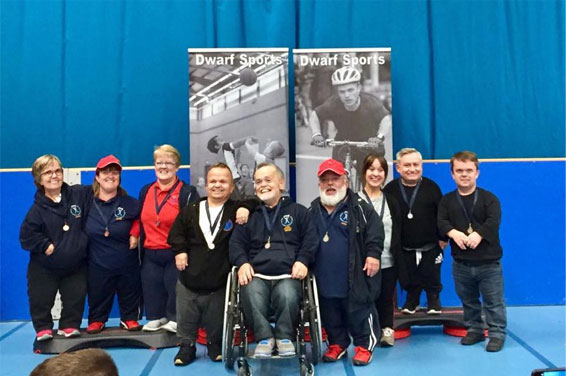 The Dwarf Sports Association UK is recognized nationally by prominent disability sporting groups all over England, and we are officially recognised as a National Disability Sporting Organisation for people with dwarf conditions. In 2011 the Association changed its name from the Dwarf Athletic Association to the Dwarf Sports Association. This change encompasses most sports fit for dwarfs, including lifestyle and leisure activities as well as mental health and wellbeing.  We work with health professionals and schools to ensure the correct information is passed onto families, regarding a child with dwarfism and sport.
The DSAuk has nine regions covering the whole of the UK, offering different events each month for members in their area. It is important that all young people with dwarfism can meet up regularly with other friends who have the same condition, rather than wait for the national events which are less frequent.
The Association and its members have achieved a lot since its formation in 1993 and are continuing to do so. We have moved on from the office being in a volunteer's home to having our own office with professional development officers. This has only been made possible by the continued efforts of a few dedicated volunteers and their fundraising. Through securing grants from Children in Need, we have been able to pay for a Development Officer and office, so that the needs of the members and the continuation of the association's future are met. Further successful grant applications from Sport England allowed us to employ two other development officers and our ever-faithful Gentleman funders also help towards running costs. But all these successful applications only last for three-year periods, so for the DSAuk to remain as strong an association as it is today means the work in finding the finances is never ending.

The DSAuk promotes grass roots participation starting young athletes from the age of two. We use sport as a tool to break down the barriers of difference within society and to encourage confidence and empower our members. It is so important that our members feel valued and that they can go on and achieve anything in life. We empower people to go on to enjoy all kinds of sport in which they can compete equally. Should they wish to go further we can guide them on to the correct pathway to world class performance within the National Governing Bodies of Sport as our most successful Paralympians, Ellie Simmonds and Matt Whorwood have done, with others now following in their footsteps.
But it is not about being the best, it is about feeling good with who you are and knowing that you can achieve anything you want to do in life as well as in sport.
DSAuk has seen the board change over the years and we have passed the baton to our younger members who themselves have grown up in the DSAuk and want to give back. We the older ones are now the Ambassadors of DSAuk, always here to advise and lend a hand and are working away in the background for the good of the Charity.
We leave a legacy that hopefully will go on for many years to come and will always be there for people with dwarfism.
Arthur Dean OBE.
President DSAuk.