David Beckham joins Ellie Simmonds as part of the Active Kids Campaign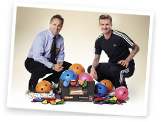 David Beckham will become a new face of Sainsbury's, the supermarket chain has announced.
The former England football captain will front its Active Kids campaign and along with one of the DSAuk's patrons Elllie Simmonds promote its sponsorship of the London 2012 Paralympic Games.
The announcement comes four months after celebrity chef Jamie Oliver said he would step down as the face of the supermarket after Christmas following an 11-year partnership.
Like Oliver, Beckham will appear in adverts for the company. The first is due to show in cinemas from November 25. However the partnership is designed to highlight Sainsbury's work with children rather than its products.
The 36-year-old, who currently plays for Los Angeles Galaxy, will be an ambassador for the Active Kids campaign. He will join existing ambassador Ellie Simmonds, the Paralympic swimmer.
The supermarket said it has donated more than £115 million worth of equipment to schools and sports clubs in an attempt to stem the growth of obesity and inactivity among children.
It also aims to get more than a million children to try a Paralympic sport in its 1 Million Kids Challenge. Adverts will feature Beckham encouraging more children to take up one of the sports.
Beckham said: "I know the difference leading a healthier and more active life can make to kids and I have been really impressed with the long-term commitment that Sainsbury's has made.
"I am looking forward to working with Sainsbury's to help UK kids have fun, become even more active and introduce them to Paralympic sports through the 1 Million Kids Challenge."
Justin King, the supermarket's chief executive, said: "As a world-class athlete and father of four, David is the ideal ambassador to support our commitment to encourage children to get active and live healthier lifestyles for less money. And with a year to go until the Paralympic Games, David's involvement in the 1 Million Kids Challenge will raise the profile even further of disability sport, to help us make this the best Paralympic Games yet."