Ellie Simmonds in top 12 of BBC SPOTY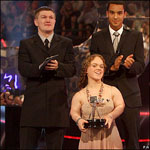 This weeknd on Sunday 16th December the top 12 sports personalities of 2012 will be voted upon by you the public.
One of those personalities is Eleanor Simmonds.
Eleanor won four medals at this years London Paralympic games helping Team GB to a record breaking medal haul. She smashed world records and was the face of the greatest Paralympic Games ever held.
She is also a dedicated supportter of the Dwarf Sports Association UK and a great inspiration to young people both able bodied and disabled.
Lets make the 16th December a very special night and make a Paralympian the BBC Sports Personality of the Year 2012.
Please vote for Ellie Simmonds on Sunday night and help to make her BBC Sports Personality of the Year 2012.