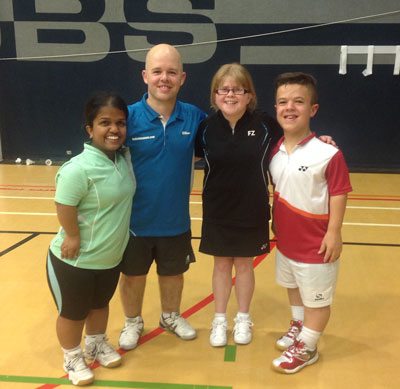 On Sunday 12 January 2014, I competed in the Middlesex Para-Badminton Tournament and played 3 singles matches and a mixed-doubles match – all of the players I competed with being Seniors.
My first match was against Randika Doling, who is a very experienced, strong player, but I think I did fairly well, losing the first game 11-21. I did better in the second game and felt more confident, but Randi is a great player and beat me 21-19.
I then played Randi's husband, Paul, who is also a very experienced and strong player. I knew this would be tough and the first game Paul beat me 21-16. In the second game, Paul was still very strong and beat me 21-13.
I was just relieved that I managed to get over 10 points with both Randi and Paul.
My next match was against a 19 year old girl called Dee who has a different type of short stature condition. I watched Dee play against Randi and could see she was a very strong contender. I felt fairly confident and managed to keep focused and won the game 21-9. The second game was much more even, but I stayed strong and won 21-15.
I was partner with Randi against Paul and Dee in the mixed doubles and the match was very even all the way to the end. Randi and I won the first game 21-19 and the second game was won by Paul and Dee 21-18. The final game was very intense and even on both sides, but Randi and I just pushed through to win the game and match 21-19.
I really enjoyed playing in this tournament. It was a great experience for me playing against stronger senior players and I am very happy with the results. I was very pleased to come 3rd in the mixed singles and first with Randi in the mixed doubles, for which I have a lovely trophy.
Daniel Allen