Day five of Steve Scott's amazing cycling challenge
Vladicin Han to Veles Macedonia
The day started early at 6:30 and badly with more punctures, worse we'd run out of rubber solution. Try explaining that in Serbian and I can tell you you get funny looks. Nowhere in the whole of Vladicin stocked glue, though with adversity comes creativity we found a workshop that repairs tractor tyres and they vulcanised my worn out inner tubes making a new ones – all for less than £1.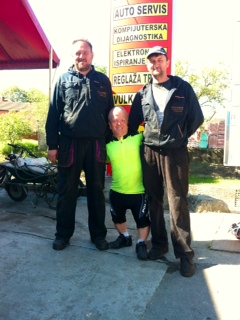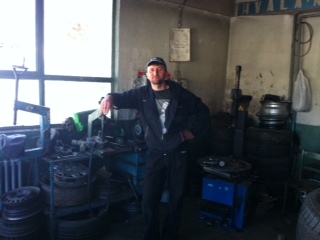 Next my rear wheel spokes tore through the rim tape and punctured the tyre. Having failed to explain rubber solution to the locals there was no way I was going to try asking for rimming tape. Mike as Paul came up with gaffer tape as the mother of invention and we spliced thin strips to fix the wheel. Phew.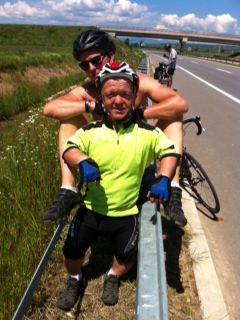 All this before 9:15 and 5 miles cycled, only another 80+ to go.
The cycling today's been great- a long slog at 82 miles in 31 degrees C though we finally (after 282 miles) cracked the up hill struggle and are now heading down towards the med. The last climb took us up 422 metres over the XYZ hill. Going up was a slog. The down hill would have been great, probably excellent even memorable had there been Tarmac. I mean you climb 502 metres going through each twist and turn so you expect the 3mile up would be reciprocated with a 3 mile down – which it was, less Tarmac. I mean it's not difficult is it – road – Tarmac. Tarmac – road. Oh no the A (yes A) 105 to Veles is made of sand and several million stones. Apparently Macedonian A roads are really C roads waiting for an upgrade. Noah obviously built the road and no one's repaired it since.
We've crossed the border from Serbia into Macedonia today and have broken the back of this years tour. Tomorrow it's a shorter, hopefully tarmaced road to Gevgelija.