Steve Scott's day four Do Something Amazing Challenge
Nis to Vladicin
Today started well, up at 6:30. Breakfast early.
These were the parts that went to plan the emainder seem to fall away, including not lasting off til 9. By 10a.m we'd had 2 punctures and climbed a 3 mile hill only to be met by a third puncture at the top and a ripped tyre. It was beginning to feel like a long day.
Lunch was in Grdelica, somewhere that's not seen many tourists or for that matter many from outside Grdelica, though there was a man in a Wolverhampton Wanders shirt. So when five pannier laden cyclists turn up, one 6ft. 2 bleach blonde and one 4 ft 6 Mohican we caused a stir.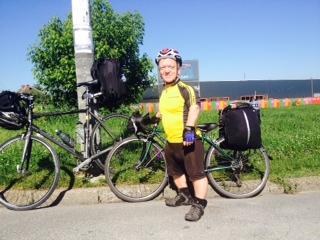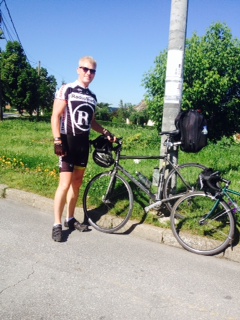 The hills weren't as bad today though the whole day did seem to be a slow incline, progressing through the Leskovac valley following the Veternica river, which was flowing the other way – well flooding the other way really.
So much so we had to come off the minor road and cycle 8-10 miles on an A road along with lorries and trucks that had the skills of the French and patience of Italians drivers with the same love for cyclists as London taxis.
Added to this there's two 250m tunnels through the Hisar hill.
The strange thing about Serbian tunnels is they don't have lights in or on – a tad scary I can tell you.
An amazing adventure I'm sure you'll agree.