Day One Part One.
We've learnt minimalism and weight are key to touring, though comfort comes into play. The dwarf sport gear is great and lite weight though not sure if wearing that much nylon is legal.
The range of substances used to prevent chaffing & enable comfort is enormous – no longer just vaseline – no for me I've '…the tingle sensation and comfort of menthol …' to look forward to – should be fun.
Lastly – bike bags. Go for cheap go for easy, but don't go for curry night before whilst taping you're bike inside one.
16° Mostly Sunny
7 Squirrel Close, Sandhurst, England, United Kingdom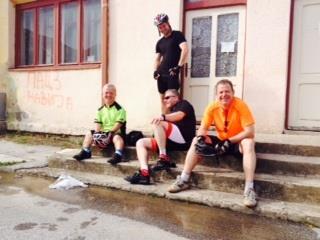 Day one part two.
Landed at 17:30 though took an hour to sort bikes and leave the airport. The short 10 mile cycle turned out to 25 miles into darkness. Serbia having limited street lighting made the last 10 miles interesting as did trying to avoid the intermittent potholes.
First day over. Sitting in hotel who've opened the Restrauant at 10pm just for us
Tomorrow is 85 miles …
So be adventure begins.
11° Mostly Cloudy
Ulica Dugo polje, Belgrade, Grad Beograd, Serbia