Record entries for National Boccia and Badminton Tournament 2015
The Dwarf Sports Association UK (DSAuk) is delighted to announce they have received a record number of entries for their annual National Boccia and Badminton Tournament, taking place in Wolverhampton this weekend (10-11 October).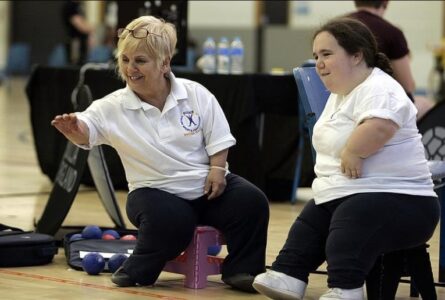 DSAuk will host the 22nd National Boccia and Badminton Tournament this weekend at Aldersley Leisure Village in Wolverhampton. This year's event has seen an increase in the number of people entering the tournament, resulting in organisers extending the competition schedule.
In total 70 people have registered to take part in the tournament this year, compared with 58 people in 2014. With many participants looking forward to taking part in both the boccia and badminton competitions, DSAuk have revised the competition schedule to include four extra hours of court time.
The badminton competition will feature both singles and doubles format, whilst the boccia tournament will see participants take part in singles, pairs and team competitions.
Looking ahead to the weekend, one participant said:
"This is the first time I've entered the DSAuk Boccia competition and I'm really excited about it. I can't wait to have a go against other players and I'm really looking forward to making new friends."
The National Boccia and Badminton Tournament is not all about the competition, it's a great opportunity for people with restricted growth and dwarfism to simply have fun being active and make some new friends in the process.
The 22nd DSAuk National Boccia and Badminton Tournament takes place on Saturday 10 and Sunday 11 October, at Aldersley Leisure Village, Aldersley Road, Wolverhampton, WV6 9NW.
For more information please contact DSAuk Office.
Photo credit: DSAuk