Katie and Josh take over from Penny in the North West region.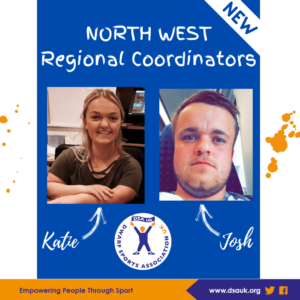 The DSAuk would like to introduce members Katie and Josh. Both have been members of the association since they were children and they will now both be working together as Regional Coordinators for the North West Region. They are taking over from Penny who has successfully run the region for over 26 years.
We would like to thank Penny and Arthur, who have both worked tirelessly to create long lasting memories for individuals with dwarfism and their families. Their passion and dedication to the members is shown in everything they do. Luckily, they will still be offering support and guidance as well as popping to events now and again, but thought it was time for younger faces to take the region forward.
The DSAuk's Regional Development Officer Tom will be working with the pair ensuring a smooth transition and supporting them as they begin organising events. He caught up with them both as they prepare to take on this new role.
Tom asked them both their favourite memory of DSAuk? What they are most looking forward to in the new role and finally to describe the DSAuk in 3 words? Here is what they both said.
Katie
"Socialising and scoring the winning goal in the women's football final at the world dwarf games."
"Being able to plan events across the region for children and adults to enjoy and seeing them socialising and having fun."
"Fun, Amazing and Encouraging."
Josh
"My favourite memory of the DSAuk is knowing I wasn't alone with dwarfism, also meeting other members every May Bank Holiday at the National Games. Meeting up with old friends and making new friends every year."
"I am most looking forward to giving back to the NW region and community, also bringing new activities and ideas to the table of exciting events."
"Inspirational, Committed and Fulfilling."
Katie and Josh are both really looking forward to putting different events on across the North West region and getting to know everyone.