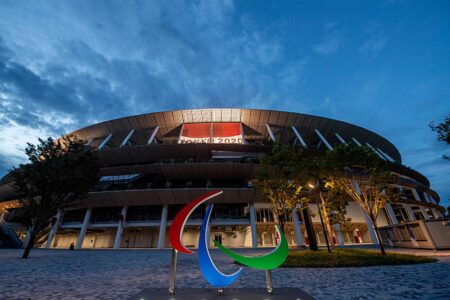 From one year to less than 24 hours, what seemed like an endless wait will soon be over for thousands of athletes eager to finally take centre stage at the Tokyo 2020 Paralympic Games.
As the Paralympic Flame makes its way into the Olympic Stadium tonight (24 August) at 8 p.m. JST, a record 4,403 athletes across 162 delegations, including six that make up the Paralympic Refugee Team, will get to make history on the field of play, while celebrating diversity in front of the world.
That includes the first female refugee Para athlete in Alia Issa, who will carry the flag for the Refugee Paralympic Team along with Para swimmer Ibrahim Al Hussein during the Opening Ceremony, representing the more than 82 million people forced to flee war and human rights abuses in the world.
"I want to share (this message) with women around with disabilities: don't stay at home. Try every day with sports to be outside in the world," said Issa, whose father fled Syria to Greece in search for a better life for his family. "I hope that I am the first example to follow."
Born in Greece, Issa contracted smallpox at a young age that damaged her brain, impacting her mobility and speech. But she remained resilient and with support, is able to compete in club throw at Tokyo 2020.

The next two weeks will be filled with athlete-centred stories to couple amazing sporting performances, and that is what IPC President Andrew Parsons said to watch out for in Tokyo.
"The Paralympics are first and foremost about sports," Parsons said. "There is so much to see … for example a blind sprinter running 100m in 10 seconds, at the same time you can see a boccia player with a severe disability doing sport that is exactly about precision. How a wheelchair basketball team works together. You see athletes with such a severe disability controlling a horse in dressage."
"It's also a transformational event. It changes the way people think about disability. People connect with diversity. They realise that being different is a strength, not a weakness."
Japan will get to watch their very own Ota Shoko fight for one of the first Para taekwondo medals: "Since getting into the sport of Para taekwondo, I've taken on many challenges. And I feel excited, finally being here at the Paralympic Games. I think Japan and the world are excited about this new sport and who its first champion will be."
It is that moment in her career she has been waiting for, and like many others – not just athletes – had to remain resilient due to setbacks from the COVID-19 outbreak that postponed Tokyo 2020 to a year later.
"Sports were not, of course, exempt from the COVID-19 pandemic and we have faced many restrictions," Ota explained. "We focused on thinking about what we could do day-by-day to get to the Games.
"Being able to train and be with teammates who have strived for the same goals are memories we will cherish for the rest of our lives. I hope these things will reach many through the media and that, even just slightly, the Games will bring excitement and give people more courage to live."
Tokyo 2020 will welcome the most athletes at a Paralympics, exceeding Rio 2016 that saw 4,328, as well as the biggest female participation at 1,853. Among the female highlights will be Uganda's Husnah Kukundakwe, who at 14 years old will be the youngest Paralympian at the Games. She is only the second Para swimmer from her country to compete in the Games and the first in 21 years.
For Kukundakwe, simply being at her Paralympic debut and around other Paralympians she has watched from afar was enough for her. Wheelchair fencing Paralympic champion Bebe Vio, who experienced a similar feeling being a torchbearer for London 2012 as a teenager, offered another perspective as she looks to retain her title from Rio 2016.
"I'm so happy to be here. I missed it so much, the vibration of competition," the Italian said. "So many other sports have had many competitions since the start of the pandemic, but not fencing. This is my first competition in two years so… I don't know. I'm scared."
Vio's sentiment has been echoed by many athletes, including returning champions like German long jumper Markus Rehm, whom many are looking forward to seeing if he will surpass his world record of 8.62m. 

That will be known in just a few days.
"I've been waiting for this moment for so long," Rehm said. "And now I'm here. I'm super excited to be in the Paralympic Village. I'm looking forward to going inside the Olympic Stadium for the first time during the Opening Ceremony and I can't wait to try the sand in there."
The Tokyo 2020 Paralympic Games will take place between 24 August and 5 September and will feature 539 medal events across 22 sports. The full schedule is available on Paralympic.org, as well as a list of broadcast. The list of worldwide broadcast partners of the Paralympic Games can also be found online.