Eleanor Simmonds wins Gold!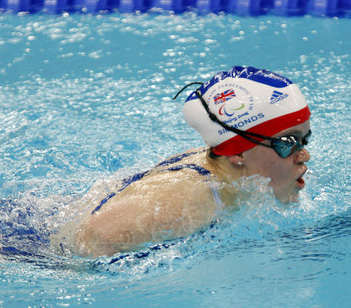 Eleanor Simmonds wins a Gold Medal in Beijing.
DAA member and Great Britain paralympian Eleanor Simmonds wins a gold medal in Beijing today. She fought off very strong competition to become Great britains youngest ever Gold medalist Paralympian.
"13 year-old Eleanor Simmonds wins gold in the 100m freestyle S6 category to become the youngest-ever individual Paralympic gold medal winner." BBC.co.uk
She beat the World Record holder to win her Medal and worked so hard on the last 50m she deserved the gold medal for effort alone.
Eleanor smashed her own personal best time to win the 100m freestyle in 1m 18.75
The GB team and the DAA membership are so proud of her achievement and we are all waiting with baited breath for the 400m Freestyle later in the week.
If you want to see Eleanor's amazing race follow this link: