Success at the IPC World Championships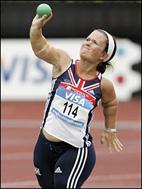 During late January two dwarf field athletes from the UK,travelled to New Zealand as part of the UK team competing at the IPC World Athletics Championships.
The two athletes in question were Sophie Hancock and Kyron Duke.
Sophie was entered in the Ladies F40 Shot Put and Kyron in the men's F40 Javelin event.
Sophie was the first to compete and was preparing to throw on the Sunday afternoon. Which equated to 3am on Saturday night over in the UK.
Her husband and the coaches involved in her preparation gathered round the computer to watch her live over the internet.
Half way around the world in New Zealand Sophie was throwing with the best 7 ladies in the world.
She did very well throwing her best distance on her third throw and finishing 5th overall.
Kyron was taking part in an event which hasn't featured at an IPC World Championships for several years. The men's Javelin.
He has shown considerable talent in the past in this event and he didn't disappoint throwing a very impressive 32.64m a seasons best for him and winning the Bronze medal.
Overall Great Britain came third in the medals table with 38 medals, a good sign for London 2012.