Juniors swim for gold in Sheffield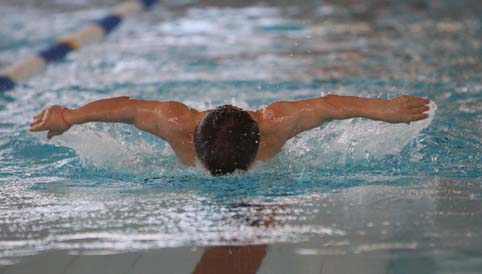 Over 200 disabled swimmers will take to the pool for the National Junior and Youth Swimming Championships. The event held at Ponds Forge International Swimming Championships in Sheffield is an annual opportunity for the nation's best youngsters to compete over a 25m short course.
Organised by Disability Sport Events (DSE) – an English Federation of Disability Sport (EFDS) programme- is free for spectators on 24 and 25 March.
This year's young stars include Eleanor Simmonds MBE, Hannah Russell, Jessica-Jane Applegate, Lyndon Longhorne and James Hollis. These swimmers also hope to qualify for the London 2012 Paralympics at next month's British International Disability Swimming Championships- at the same venue.
Also competing are several of the DSA's junior swimmers, some competing for the first time at this championships, why not go along and support them. Mikey Thompson, Lauren Sullivan, Carys Coppen, Robert Abraham and many more of our swimming stars will be there.
Ellie Simmonds, won two gold medals at the Beijing Paralympics in 2008 at the tender age of 13. Now 17, she broke her own SM6 world record in the 200m Individual Medley final a few weeks ago at the British Gas Swimming Championships in London, and became the first ever swimmer to break a world record at the London Aquatics Centre.
Wear Valley club swimmer Lyndon Longhorne (SM4) swam to victory in the 150m Individual Medley at the championships, touching in a British record time of 3:02:36 and hoping to improve his time in April. The 16 year old began at the National Junior Championships so knows the value in competing against his young rivals. He said:
"The Nationwide Junior and Youth Championships is an important competition for me as I am able to compete against people my own age. It gives me an insight as to where my times are, especially as this competition is a matter of weeks away from the final London 2012 team GB selection trials."
Nationwide Building Society has supported the event for the last six years as Disability Sport Events' long term partners. Through the athletics and swimming programme, they have ensured many more disabled people can compete at all levels, enjoy sport around the country and be spotted as potential talent.
Chad Rogerson, Senior Community Strategy Manager, said:
"Nationwide is proud to be sponsoring this event as part of our ongoing commitment to disability sport. Since 2000 when our partnership with DSE began, we have seen a host of swimmers develop and I'm pleased to see more and more young talent emerge."