Zoe Newson lifts her way to a Bronze Medal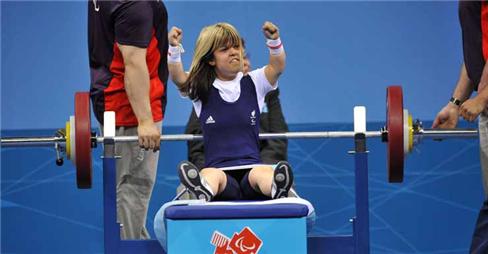 Zoe Newson wins a Bronze medal in the Powerlifting at the London Paralympic Games.
As a member of the DSAuk and with the whole membership watching out for her results, Zoe Newson secured a Bronze medal in the Powerlifting tonight in the Excel arena in London. giving Zoe an athlete from the association her first ever Paralympic medal and the first Paralympic medal for a British female dwarf lifter ever.
Zoe made a first lift of 84kgs and was in third palce after the first round. In her second lift she was unsuccesful and an appeal was made but not upheld. At this point Zoe was fourth.
Zoe had to make her third lift to be in with the chance of a medal.
She made a clean lift of 88kgs which won her the Bronze medal.
The Gold was won by Turkish lifter Muslu with a new world record making Zoe's achievement even more amazing.
Well done Zoe.
Paralympics GB said:
Zoe Newson, the youngest member of ParalympicGB's Powerlifting squad, produced a terrific performance to capture bronze on day 1 of the London 2012 Games.
The 20 year old from Colchester celebrated her Paralympic Games debut by equaling her personal best to take bronze in the Under 40kg class at the ExCeL today.
Newson opened up with a lift of 84kg. She failed with her first attempt at equalling her PB of 88kg, but then successfully completed her second attempt. That was enough to guarantee her a medal.
Although Vietnam's Thi Hong Nguyen managed the same total, Newson took the medal due to her lower body weight.
"I'm really proud," she said. "I thought I'd come here and be fourth or fifth and maybe set a personal best, but I'm so excited now.
"Usually I'm so laid back whatever happens, but this means a lot to me," she added. "The crowd really helped me and it's really good that they are here to support you.
"Most of my family and friends were here as well, so it was awesome."
Turkey's Nazmiye Muslu set a world record for the weight category to take gold with a new benchmark of 109kg.
Newson collected the junior world crown in Malaysia two years ago, when she also finished fourth in the senior competition.
Britain missed out on the Powerlifting medals in Beijing four years ago – the last GB athlete to win a Powerlifting medal was Emma Brown, who took gold at Under 82.5kg at the Athens Games in 2004.
Earlier today Anthony Peddle, competing at his seventh – and probably his last – Paralympic Games came eighth in the men's Under 48kg category.
The 41 year old, who lives in Matlock in Derbyshire, lifted 140kg. Afterwards he said he was unlikely to be back again at the Rio Games in four years time – at least as a competitor.
"I would like to have done better for all the home supporters but it wasn't meant to be," he said.
"The support from the crowd was incredible. After my first and second lifts, I was almost in tears – it really affects you and obviously makes you try that little bit harder. I won the gold in Sydney, so that will always be special, but this was absolutely amazing.
"That's me done now. To quote Steve Redgrave, 'If you ever see me in a Lycra suit again, you've got my permission to shoot me'," he added. "I need a holiday and after that I might return to the sport in another capacity – perhaps coaching – and I could well turn up in Rio."