Anna Knowles to Walk Hadrian's Wall, raising funds for DSAuk.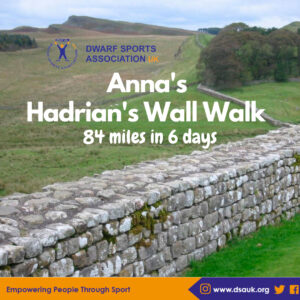 Anna, mum to full member Grace, is taking on the challenge of walking 84 miles in 6 days at end of July to raise funds for the 'Dwarf Sports Association UK'. Anna will be walking from Bowness on Solway to Wallsend in Newcastle, following Hardrian's Wall.  We caught up with Anna as she prepares for this incredible challenge.
Why do you want to take on this incredible challenge?
I want to challenge myself to support the DSAuk as I want to be a good role model for my daughters in terms of being active and pushing myself to do something that is out of my comfort zone! The DSAuk means so much to us as a family and to Grace who has made lifelong friends and been given such opportunities to blossom.
How are you preparing yourself for this massive challenge?
I have been completing weekly training walks building up to 14 miles while carrying all my Kit. Currently up to 12 miles!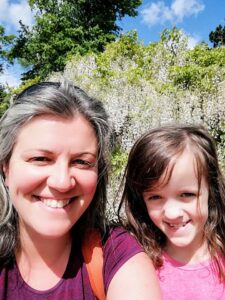 Why have you chosen to raise funds for DSAuk?
The DSAuk is a charity very close to my heart as the support given to us and my beautiful daughter Grace has seen us through some tough times. I watch Grace blossom through the confidence gained through her time with the DSA.
What difference do you hope it will make by supporting our charity?
I hope to get to my target of £500 to help the DSA continue to provide the support we have found invaluable.
All the team at DSAuk is wishing Anna the best of luck and if you would like to support Anna's fundraising – click here for her go fund me page Fundraiser by Anna KNOWLES : Anna's Hadrians wall walk for the DSA. (gofundme.com)