The recently concluded 30th Anniversary National Games was an extraordinary display of athleticism, camaraderie, and sportsmanship. After weeks of meticulous planning and preparation, the DSAuk Staff, Board, Trustees, and Volunteers orchestrated a remarkable weekend of sport that will be etched in the memories of participants and spectators alike. The event received overwhelming support from officials and volunteers, whose tireless efforts played a crucial role in ensuring its success.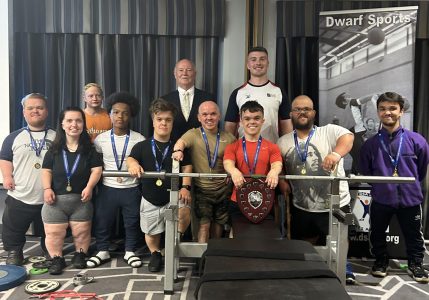 The action-packed extravaganza kicked off on Friday with the powerlifting event, proudly supported by British Weightlifting. Athletes from across the nation showcased their exceptional strength and determination as they pushed their limits and lifted astonishing weights. The atmosphere was great, with cheers and applause, providing a motivating backdrop for the participants.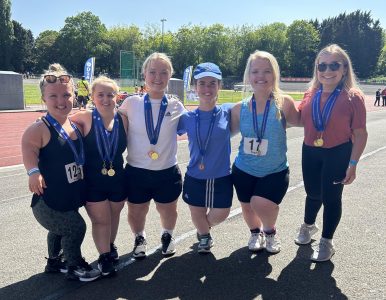 As Saturday dawned, the sun beamed down on Aldersley Stadium and after a lovely opening speech from the Mayor of Wolverhampton, athletes of all ages and abilities took centre stage competing in a wide array of track and field events. From the 10m Dash to 4 x 100m Baton Relay, each athlete left an indelible mark on the games with their awe-inspiring performances. The spectators, basking in the sun-soaked ambiance, were treated to a spectacle of sheer athleticism and sporting prowess.
Sunday saw a delightful mix of sports tailored to cater to participants of all ages and abilities. The organisers ensured that everyone could find their niche and partake in the joy of sportsmanship. Athletes young and old, experienced and novice, engaged in various disciplines, including shooting, basketball, hockey, cycling and new age kurling. It was heart-warming to witness the spirit of inclusivity and the passion for sports that permeated every aspect of the event.
As the grand finale approached, the enthusiasm reached its zenith. Monday witnessed an exhilarating display of talent and teamwork in two highly anticipated events: swimming and football. The aquatic arena at Cheslyn Hay witnessed graceful strokes and determined dives as swimmers glided through the water, aiming for victory. Simultaneously, on the football field, teams clashed in a battle of skill, strategy, and unwavering spirit. These events encapsulated the essence of the National Games, highlighting the transformative power of sport and its ability to bring people together.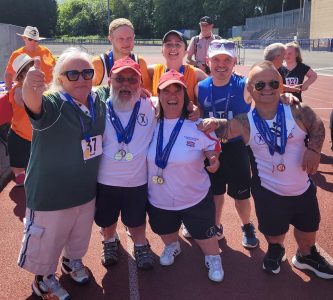 The 30th Anniversary National Games was an unequivocal triumph, leaving a lasting impression on all those involved. The event showcased the power of sports to inspire, unite, and empower individuals of diverse backgrounds and abilities. The organisers, officials, and volunteers deserve immense appreciation for their extraordinary contributions, ensuring that this milestone celebration will be cherished for years to come.
As the games came to a close, the collective spirit of achievement and camaraderie lingered, fueling the participants' passion for sports and igniting the flame for the upcoming World Dwarf Games in Cologne, Germany.