[Skip to Content]

Patrons - Ellie Simmonds MBE OBE and Matthew Whorwood
Welcome to the Dwarf Sports Association UK
We aim to make regular sporting opportunity accessible and enjoyable to anyone and everyone of restricted growth in the United Kingdom, regardless of their race, colour, ethnic origin, gender, location, sporting ability or financial support....
Latest News
DSA Athlete Profile - Lauren Sullivan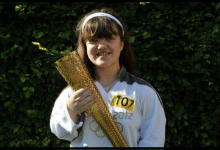 Name:Lauren Sullivan Occupation:Student Age:15 Years
What is your Sporting background?
I started doing sport with the DSA and found I loved swimming best of all.
I like the shooting as well!
---
Read More
Next Event
Athletics Training
7:00 PM.
13th December
Liverpool Aquatics Centre
View Details
Featured
Tips for Coaches
There are over 200 types of restricted growth which can be grouped together as dwarf conditions, the most common being Achondroplasia.
Read More