DSAuk make history over May Bank Holiday weekend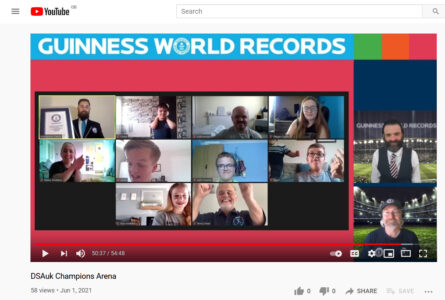 The Dwarf Sports Association UK (DSAuk) created a piece of history over the 2021 late May holiday weekend in becoming the first National Disability Sports Organisation to be awarded an official GUINNESS WORLD RECORDS™ title.
Throughout May 2021, DSAuk invited members, family, friends and partners to take part in the record attempt for "Longest video chain to catch and pass a tennis ball"
In the live Champions Arena show, official Guinness World Records adjudicator, Daniel, made the eagerly anticipated announcement:
"On behalf of Guinness World Records, it gives me great pleasure to announce the longest online video chain of people catching and passing a tennis ball is 444 and was achieved by the Dwarf Sports Association UK in the United Kingdom on 31st May 2021. Congratulations, you are all officially amazing".
Responding on the show to the fantastic news, DSAuk President Arthur Dean, said:
"Absolutely well done, it's been brilliant. Thank you to everybody that's taken part".
DSAuk and Guinness World Records also launched five other record attempts to celebrate what would have been the DSAuk National Games weekend. Challenges included, folding and throwing paper aircraft, star jumps in 30-seconds, coins tossed in a cup in 30-seconds, 10-step heel to toe relay and 16-jumping jacks relay.
Members and families made fantastic efforts in their qualifying video entries over the weekend but only those topping the leader boards were able to go forward to the live Champions Arena show to attempt the official Guinness World Records title.
During a tense one-hour live show, DSAuk members put in their best possible performances with the result that two of the associations younger members, Josh Coomer and Jacob Deedman, made a new record of 9.61 seconds for the team of two, 10-step heel to toe video relay title.
Also, the "Star Jumping Scots" team of Hailey Davidson, Megan Purvis, Colin Brown and Finlay Davidson set a new world record of 19.95 seconds for the team of four, 16-jumping jacks video relay title.
Other Champions Arena finalists were Fern Sneddon and Josh and Aimee Grist.
Everyone was hailed by official adjudicator, Daniel, as being officially amazing.
More information can be found on the DSAuk website https://www.dsauk.org/guinness-world-records-challenge/