The Paralympian Magazine is now available online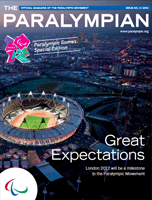 The latest edition of The Paralympian is now available on line.
This award winning publication is written by the International Paralympic Committee and is full of information about the upcoming London Paralympics.
There is information on the events not to miss, the athletes to keep an eye on, the schedule of events for each day and profiles on some of the athletes expected to do well.
It's a must read for anyone interested in the 2012 Paralympic games.
Follow this link to download it:
http://www.paralympic.org/sites/default/files/magazine/120806125116105_WEB_Paralympian_02_2012_double_0.pdf