Badminton International to be held in the UK
Badminton England are organising a full International Para-Badminton Tournament in Loughborough (near Nottingham) on the 24th to 29th June.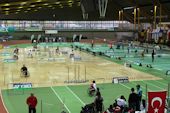 This will be the first International Para-Badminton Tournament ever run in the UK.
If you wish to enter and have never seen a classifier you will need to be classified at the event probably on the 24th.
All the information and entry forms are available from this link:
http://www.bwfbadminton.org/tournamentcalendar_event.aspx?id=21209
This event is open to all countries.
The closing date for entries is the 7th May, so enter quickly if you wish to take part.
We'd also like to make you all aware that Para-Badminton is in the final stages of becoming a Paralympic sport for 2020.
There is no guarantee the the dwarf class (SS6) will be included but it is an active part of that Paralympic bid.
The only way to help it become a paralympic sport is to have lots of SS6 class players from many different countries at all the internationals to prove that there are sufficient numbers of dwarf badminton players Worldwide.
This will be a great opportunity to do just that.
Hopefully there will be lots of players from other countries competing as well so it will present an opportunity to meet old friends and make new ones during the event.
There is also a European Championships being held in 2014, this will be held in September from the 9th to the 12th in Spain.
Again this is an opportunity to show the International Paralympic Committee and Badminton World Federation that the SS6 class is viable as a parlympic sport and should be included in 2020.
This event is only open to European countries and it is still very important to show that there a large numbers of dwarf players to support the paralympic bid.