Twin's Katie & Emelia and big sister Abigail support DSAuk.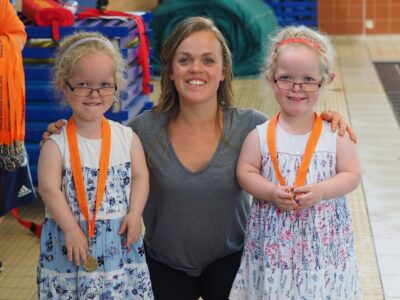 At the end of the month, twins Katie and Emelia along with big sister Abigail will be taking part in a swimathon challenge to raise vital funds for the Dwarf Sports Association UK.
The three sisters have said they would like to swim 20 lengths each (please bear in mind they have only done 6 lengths so far) as they want it to be a challenge.
Regional Development officer Tom caught up with Mum Jenny before the girls take part in this challenge.
Jenny commented "The Dwarf Sports Association plays a big part in our girls lives as it gives them the chance to play sport on an even playing field as well as meeting others like them and make those important friendships for future support."
He also went on to ask Jenny a few questions regarding the challenge and why they have kindly chosen the DSAuk.
Why do they want to take part in this incredible challenge?
The girls wanted to do this challenge as they have been swimming quite a lot this summer and they wanted something to work towards while improving their swim technique and stamina, whilst raising money.
Why have they chosen to raise funds for DSAuk?
They chose the DSA as they have really missed the meet ups over the last couple of years and can't bear the thought of it not continuing.
What is their favourite event at the DSAuk?
Their favourite event is the games, Emelia particularly likes the running and swimming, Katie enjoys everything especially the skiing because it's fun sliding down. Abigail loves the fact that she can join in on the monthly meet ups.
All the team at DSAuk are wishing the girls the best of luck and if you would like to support their fundraising – click here for their go fund me page
Fundraiser by Jenny Corns : Swim for the Dwarf Sports Association UK (gofundme.com)