On Thursday 25th August Ellie Cliff is going to be swimming a 5,000m to raise money and support the DSAuk. She will also be joined by her son Jacob who has Achondroplasia at her swim at Bathurst Pool in Lydney, Gloucestershire. Jacob will be joining her to swim as much as he can to also raise money for the Dwarf Sports Association.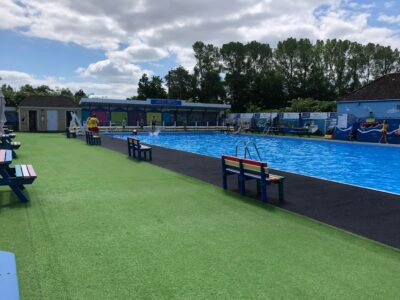 Ellie commented "Bathurst Pool is a wonderful outdoor pool which celebrated it's centenary in 2020 after almost being permanently closed down in around 2003. It is run by trustees and volunteers and they are passionate about keeping it open for everyone to enjoy. We discovered the pool last year as somewhere to enjoy as a family in the summer holidays and this year I joined their Swim Club, where a limited number of people can enjoy lane swimming outside the public opening times."
Regional Development officer Tom caught up with Ellie as she prepares for this challenge.
Why do you want to take part in this incredible challenge?
I decided to take on my sponsored swim challenge after rediscovering swimming as a way to get fitter and healthier post-pandemic and a having a busy life with a young family. Jacob loves any sports so swimming is a challenge we can enjoy together.
How are you preparing yourself for this massive challenge?
I am swimming there 2-3 times a week and building up the distance I am swimming to hopefully get the 5k swim done in 2.5-3 hours. It's a 38m pool so it is a decent size for training!
Why have they chosen to raise funds for DSAuk?
DSAuk is so important to our family after becoming members in 2016 for our son Jacob to meet other children and families with dwarfism and we have seen the positive impact that sports has for his confidence.
He is becoming more aware of his differences and as he gets older he sadly is more likely to meet people that may have negative things to say, but his sporting achievements so far have enabled him to brush off that negativity easily and feel proud of himself.
What difference do you hope it will make by supporting our charity?
By supporting the DSAuk, it's a way of saying thank you for all of the hard work you are doing to raise awareness for people with dwarfism and being a wonderful community for families and individuals to feel they belong and achieve their goals.
The team at DSAuk are wishing Ellie and Jacob the best of luck and if you would like to support their fundraising – click here for their go fund me page.