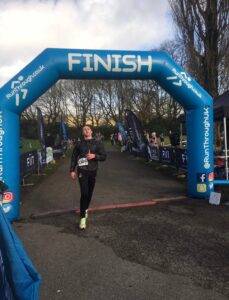 Throughout the numerous lockdowns Jacob developed a keen interest in running and after recently taking part in a few half marathons, Jacob has decided to set a challenge and push himself even further, by taking part in 4 half marathons and 2 full marathons (168k).
To help motivate himself through the challenge he decided it would be a good idea to raise money for charity in the process. He has kindly decided to run on behalf of two brilliant charities. (DSAuk and Alder Hey Children's Charity).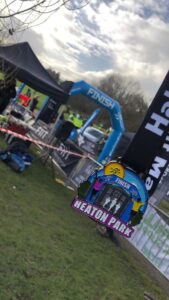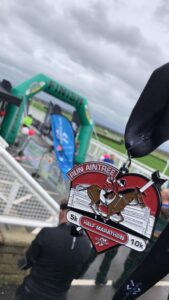 Marathon Checklist
21k Heaton Park (Manchester) – 30/01/22 – COMPLETED
21k Aintree Racecourse (Liverpool) – 13/02/22 – COMPLETED
42k Oulton Park (Cheshire) – 06/03/22
42k Milan Marathon (Italy) – 03/04/22
21k Richmond Park (London) – 17/04/22
21k Gateshead Half Marathon (Newcastle) – 01/05/22
Regional Development officer Tom caught up with Jacob after his completed his first half marathon.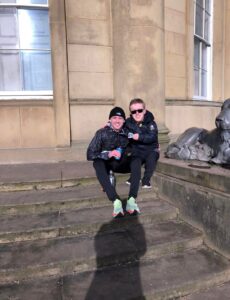 Jacob commented "(DSAUK) is a national charity very close to my family and particularly my brother Dylan, who has Achondraplasia. The charity does incredible work and has given him and many others a platform to compete in sport at a very high level but more importantly, where they feel included and develop self-esteem."
He also went on to ask Jacob a few questions regarding the challenge and why he has kindly chosen the DSAuk.
Why do you want to take on the challenge?
I really started to develop an interest in running during lockdown and thought I'd challenge myself to do a marathon at some point in the new year. I then decided to do a bit of research into marathons abroad and thought it'd be a good idea to do a series of runs throughout the UK and one in Europe. To help keep me motivated and focused, I thought I'd try and raise some money for charity at the same time!
How have you prepared for the challenge?
I haven't done any meticulous training in preparation – I tend to keep as active as I can anyway (gym, running, football etc) but in all honesty, I just liked the idea of throwing myself into the challenge head first…which sounds a bit crazy! Of course I will tailor my training as the dates of the two marathons draw closer, but in terms of day to day, I try to eat as healthy as I can and either run of an evening or play football.
What difference do you hope it will make by supporting these two charities?
I am hoping in some small part to help 2 amazing charities to continue their invaluable work. I know that like me, our Dylan, Reece and Lucy, countless other children, from birth right through to young adulthood, have been cared for by Alder Hey hospital. Literally, everyone I know has been to Alder Hey at some point in their childhood! They do outstanding work and Liverpool is both proud and lucky to have this hospital in our community. I really wanted to find a way to show my appreciation. I've grown up with DSAuk. It has played a huge part in our family's life and we've been to some incredible places and enjoyed brilliant times through DSAuk. You can see instantly how much this charity helps develop character and instill confidence in its members. DSAuk changes lives. However, it is not only to the benefit of those with restricted growth. Only recently I went along to the training day at St George's Park and caught up with people I hadn't seen for years and had a fantastic day. You can feel how much of a bond everyone has, whether that be people with dwarfism, or average height people, new members or old…it's a special environment to be in and a pleasure to have made so many memories with people affiliated with the charity!
All the team at DSAuk are wishing Jacob the best of luck and if you would like to support their fundraising – click here for their go fund me page
Fundraiser by Jacob Beaumont : 168k Challenge (gofundme.com)